The futuristic headwear system being developed for U.S. soldiers has been recently tested for use in a mounted infantry situation. The IVAS or Integrated Visual Augmentation System Capability Set 3 Hardware was tested while they were mounted in vehicles at the in Joint Base Lewis-McCord located near Tacoma, Washington.
While previous tests were meant in improving the capabilities of dismounted soldiers that can help them identify friend from foe, read detailed maps with the heads-up display, and even see through smoke. This new test allows the soldier to have better situational awareness inside infantry vehicles such as the Strykers or the Bradleys as they tend to get disoriented when the doors open and they are dropped off in an operating area especially when there is intense fighting outside.
---
SGT John Martin, Bradley Master Gunner from the 3rd Infantry Division said, "I struggled when I was a squad leader getting out of the bay not knowing where I was because we get dropped at different spots in the op order. Not having information on the ground was definitely a challenge that tripped us up."
An integrated team made up of Project Manager IVAS, Soldier Lethality Cross Functional Team (SL CFT), NVESD and C5ISR Prototype Integration Facility (PIF), PM Stryker Brigade Combat Team (SBCT), PM Bradley, Army Capability Manager Stryker (ACM-S) and Bradley (ACM-B), and industry partners joined up at the Joint Base Lewis-McCord to tackle how to best amplify the capabilities of IVAS onto vehicle platforms.
---
"Up until this point IVAS has really been focused on the dismounted Soldiers and getting that fighting goggle right," said MAJ Kevin Smith, C5ISR Night Vision and Electronic Sensors Direction (NVESD) Research and Development Coordinator and PM IVAS Platform Integration Directly Responsible Individual (DRI). "So in parallel, we in the Night Vision Electronic Sensors Directorate have been working to build-in applications to leverage both new and existing sensors on the vehicles to give the Soldier not just enhanced visual situational awareness, but also C2 [Command and Control] situational awareness while they're inside of a platform or vehicle."
Previously, mounted soldiers get to have information from outside by looking at a flat screen showing the view of the gunner or the vehicle commander, using a periscope or by asking what the vehicle crew is seeing outside. With the IVAS goggles they are wearing plugged or connected to the vehicles systems, they get to see for themselves what is happening outside without bothering the vehicle crew and they also have a better situational awareness and understanding of the environment they are going into. This way, they are able to act immediately upon exiting the vehicles without the need to reorient themselves.
---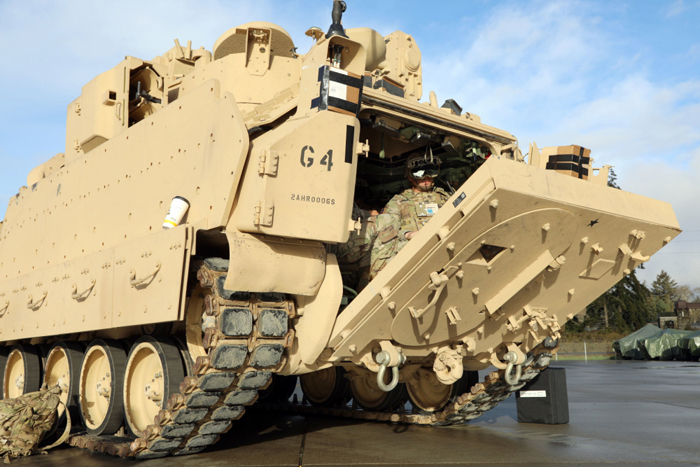 ---
"This changes how we operate honestly," said SGT Philip Bartel with 1-2 SBCT. "Now guys aren't hanging out of vehicles in dangerous situations trying to get views on what's going on. Leadership will be able to maneuver their elements and get view-on-target without having to leave the safety of their armored vehicles. Maneuvering elements with that kind of information will minimize casualties and will overall drastically change how we operate and increase our effectiveness on the battlefield."
Based on the Microsoft HoloLens that the Israeli Defense Forces have been developing for their own soldiers, the IVAS is being developed with the Soldier Centered Design as its driving principle. This means that soldier feedback heavily weighs in the development of the system. It is is revolutionizing the way that acquisition requirements are generated. While engineers and industry experts have always been dedicated to develop effective products to meet Soldier needs through requirements, best practices have now shown that requirements should be developed hand in hand with and by the end user.
The IVAS development team continues to work on the IVAS making it ready for Operational Test that is scheduled in July 2021 and an FEU in the 4th quarter of the year.
Photos: Soldiers testing the IVAS Capability Set 3 Hardware in Joint Base Lewis-McCord, WA. (By Courtney Bacon, Public Affairs PEO Soldier)