The trend for pistol designers these days is to come up with optic ready handguns with the availability of micro sights or micro red dot sights that can be mounted on pistols, if these have the mounting options. Glock calls its MOS or the Modular Optics System, Optical Sight Pistol for the Springfield Series, and in airsoft Tokyo Marui call their optics ready pistol as Direct Optics Ready (DOR). Most well known pistol brands already have their optics ready pistols.
For Walther Arms, it's just simply called Walther PDP (Performance Duty Pistol)  --- no more additional letters and makes it easier to remember, just like the way it prefers to call its pistols.
---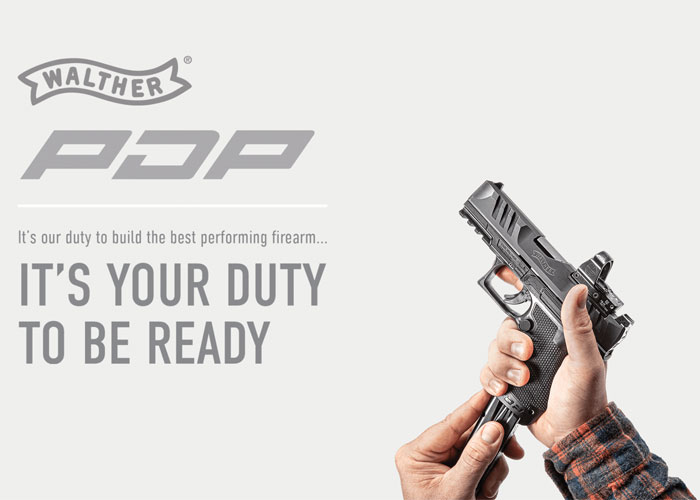 ---
With the base gun being the Walther PPQ, the PDP is mainly aimed for the American market and the PPQ will be discontinued to the consternation of fans of the handgun as it is a great pistol to handle. It is striker-fired, polymer frame 9mm pistol that has an optics-ready slide; a redesigned trigger for better safety and accuracy; and modularity that any slide length can fit on any frame even if it is not a factory offering.
The grip offers a new texture and Walther calls it "Performance Duty Texture" that is of a tetrahedron design. This design, according to company is non-abrasive so there will be no irritation to the skin or clothing of the owner and that it will help the owner maintain a perfect grip even in harsh weather conditions.
There are three variants that will be available to potential buyers of the PDP: Compact 4", Full Size 4" and Full Size 4.5" and all are priced the same at US$649.00. The Compact PDP has a capacity of 15 rounds whilst the Full Size versions got 18 rounds to expend before a fresh magazine needs to be loaded. All variants will come with 2 magazines as standard.
---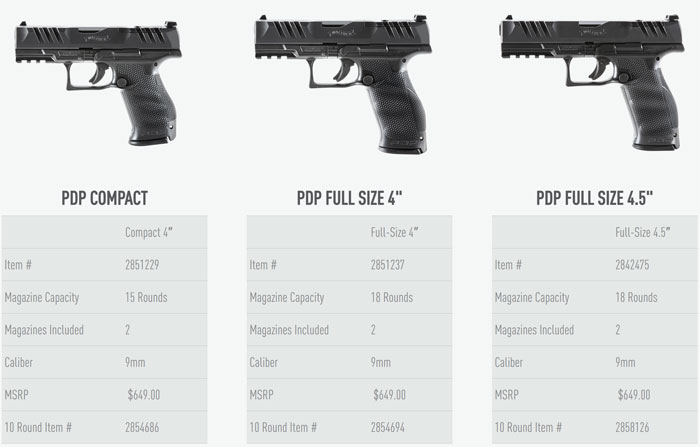 ---
Press release from Walther below:
WALTHER LAUNCHES THE PDP (PERFORMANCE DUTY PISTOL)

(February 16, 2021) Walther, a company defined by over a century of engineering passion, precision workmanship and innovation, has entered a new era of manufacturing with its flagship elite handgun. The PDP, Performance Duty Pistol, has been designed by Walther to be READY, no matter the circumstance.

With revolutionary Red Dot Ergonomics engineered into the pistol, the PDP platform has been designed around making the switch to the popular red-dot sight system easier for the new RDS shooter and faster for the RDS veterans. The SuperTerrain serrations are uniquely shaped to protrude above the surface of the slide allowing for quicker and more responsive hands-on engagement with the pistol. Walther's brand new Performance Duty Trigger shortens the length of travel and increases the tactile definition of the trigger break making the best striker-fired trigger on the market even better. The PDP is the most modular and versatile pistol ever designed by Walther and every PDP model comes red dot READY.

Available in 9mm, the striking design provides supreme performance in any condition, making this the go-to choice for shooters as an ideal firearm in both concealed carry and conventional service situations. The PDP is launched in two distinctly different frame sizes – compact and full size – as well as three different slides lengths - 4" and 4.5" in compact models, and 4", 4.5" and 5" in full size models.

The PDP is the next evolution in world-class ingenuity for polymer frame pistols. Packed with features, Walther's PDP is specifically designed to maximize readiness no matter the circumstance. The Walther PDP is how to stay READY.

"At Walther, we believe it is our duty to engineer the best possible pistol for anything our customers may encounter.  We want them to focus on being READY for anything and not thinking about how or if their pistol will perform, we have done our job, so they don't have to worry about it."  Jens Krogh Vice President of Marketing and Product Development Walther Arms USA.

WALTHER PDP MSRP: $649.00