ZEV Technologies through the licensed products released by PTS Syndicate and before that the Echo1 Zev Custom Timberwolf Gas Blowback Pistol and a ZEV custom slide for the Tokyo Marui Glock 17 GBB Pistol. But what are not available in the airsoft market are the licensed versions of complete ZEV guns such as the OZ Combat Pistol and the Core Elite Rifle.
Now, they follow up on their second rifle, the Core Duty Rifle. It is designed for use by professional shooters as well as law enforcement and military. The rifle fires the 5.56 NATO or 223 Remington round and firearms dealers in the U.S. are now readying to have space on their shelves for this rifle. Whilst the Core Elite Rifle comes with a Magpul STR Stock the storage capable version of the CTR stock, the Core Duty Rifle is equipped with ACS (Adaptable Carbine/Storage) stock which I believe is the Mil-spec version.
Just like the Core Elite, the Core Duty is a 16" inch rifle though there will be shorter version in the works. It uses the M-Lok rail system, which has become the dominant rail system, overtaking the KeyMod rail system. With the merger with Mega Arms in 2017, there should be some Mega Arms DNA in the design of the Core Duty.
As of now, the Core Duty Rifle is on pre-order at firearms dealers in the U.S. As for airsoft versions, we still have to hear about licensing the design for use in airsoft though we expect PTS Syndicate to aim at making the Core rifles for the airsoft market. But I may be getting ahead of this, so it's best to wait until it really happens.
---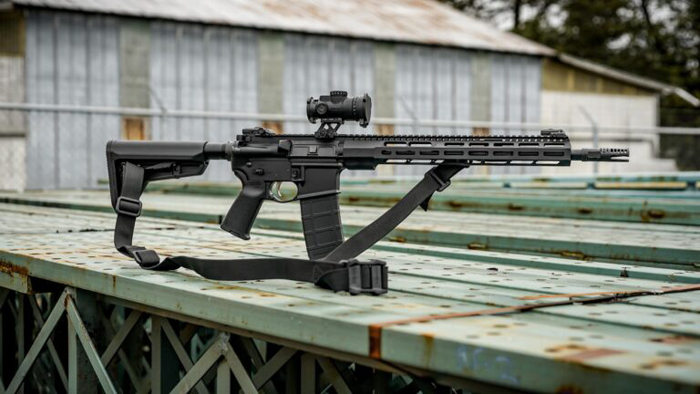 ---
Short press release from ZEV Technologies below:
Centralia, WA – ZEV Technologies formally announced the launch of their Core Duty Rifle. The new Duty Rifle is the second LE and Military focused product from ZEV, the first being the OZ9 Combat Pistol. Currently offered with a 16'' barrel length, ZEV will soon be offering 10'' models along with special requests from agencies and units.

According to Dan Groce, Director of Brand Engagement "We've been working diligently on moving into the Military and LE market. The Core Duty Rifle has the DNA that ZEV is known for. Accuracy, reliability and performance remain key focus points for our Military and LE products."